Is Sports Betting Legal In Alabama
Every football season you can bet at least someone at the tailgate is going to ask "Is sports betting legal in Alabama?" In fact, it's said that even if you live near Alabama without actually living within the state borders, if you step outside and really listen you can always hear a faint call of "roll tide." This should come as no surprise given that the state of Alabama boasts one of the most successful, storied college football programs in the nation. It should also come as no surprise then that many Alabama residents have questions related to sports betting, namely, if sports betting is legal in Alabama.
A popular misconception about the current state and federal betting laws is that it is not allowed to participate in sports betting at all. Fortunately, this is not the case. While it is unlawful to facilitate sports betting or to essentially be in any kind of a position where you can turn a profit off of other people's wagers, it is not punishable by law to merely participate in sports betting with an online offshore sportsbook. Many of these laws were written as a means of attacking organized crime and racketeering, these laws are not written to punish average citizens.
Alabama state legislators have also introduced sports betting bills in order to clarify the state's laws. Those bills include AL HB 358 and AL HB 315 which were introduced in 2019. While neither of them passed, both bills were introduced after the fall of PASPA showing that state lawmakers were interested in exploring the issue and possibly regulating the industry in Alabama. The topic came up again more recently in 2021 with AL SB 319. That bill would've let the local voters decide on sports betting among other forms of gambling on the November 2022 ballot. However, that bill died on the House Floor on the last day of the 2021 legislative session. The topic is almost guaranteed to come up in spring of 2022 given how much local support sports betting has.
Land-Based Sports Betting in Alabama:
Unfortunately, there are no land-based sportsbooks in Alabama at this time. The state law does not permit sports betting to be operated in the state either by an individual or by a business. Bills have been introduced to change this stance but they have not passed yet. It is because of this fact that you should avoid local bookies in Alabama. If you're an Alabama resident and want to bet on sports in-person your best option is to head over to Mississippi. There are dozens of land-based sportsbooks scattered all throughout that state, most notably in Biloxi. If you don't have the time or money to do that then your only option is to use an online offshore-operated sportsbook.
Legal Online Sports Betting in Alabama:
Luckily, there is an alternative. There are a ton of online sportsbooks that accept Alabama residents and being based in foreign territories helps them to work around the pesky state enforced laws that make land based sports betting in Alabama practically impossible. In addition to being legal, most online sportsbooks have been operating for the better part of a decade slowly building up a good reputation the right way. This means they are usually an incredibly safe place to trust with your money, and will be trustworthy when it's time to pay you out.
Bovada Sportsbook - Our Highest Recommended Legal Sportsbook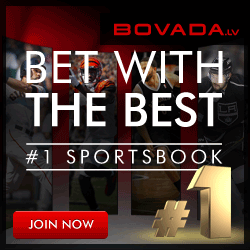 If you live in Alabama and are looking for a sportsbook to start up an account with, it may be prudent to both begin and end your search with the Bovada online sportsbook. Over the years, the Bovada name has practically become synonymous with legitimate online gambling, with many major media outlets like CBS citing Bovada's odds even over more established and popular land-based sportsbooks out of Las Vegas. The Bovada network not only boasts one of the most complete collections of betting lines and propositions, but they also cater to the most powerful computer you carry around in your pocket (aka your smartphone). Bovada sports one of the most complete and easiest to use mobile apps, making sports betting a breeze anywhere you can get phone service.
Top Sports Betting Sites
Rank
Online Sportsbooks
Bonuses Offered
Rating
US Players?
Play Now!





What's The Bottom Line? Will I Get In Trouble For Betting On Sports?
Next time you start to feel the passion of the Crimson Tide, remember that to make the games even more exciting, you're perfectly within your rights to begin betting on sports in Alabama. When done legally, safely and responsibly, it can make a great college football match even more exciting.